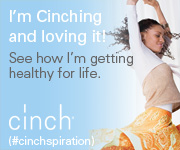 I can't believe it's already been a month of the Cinch program!! It's been a struggle and a challenging one since I have not been able to do my favorite workout routines. Although I have tried to sneak a few in, walking has been my main exercise. Each time I've gone to physical therapy, I have asked my Therapist to allow me to exercise more, but it's been a no go. I've noticed a difference in the energy I had when I was able to do more exercises. I also saw quicker results when I initially started this program earlier in the year. But what can I do? I've gotta listen to Dr's orders right?
I did have a fiasco happen with my blender this month. It slipped out of my hand while I was washing it and it broke into pieces. I was devastated since I use it every morning and sometimes twice a day. I immediately went into panic mode and looked around for a new blender. Although my heart was set on a Vitamix, I knew I could not spend that much on a blender at the moment. My alternative was the Ninja Kitchen System Professional 1100. This normally sells for $159. I got it for $94.99 with an additional 20% OFF!! That's right! $76 for a Ninja blender. Luckily we have a store in my neighborhood that sells Costco products that were overstocked and sold at a big discount! SCORE!!

My favorite shake concoction for the month:
blueberries
banana
spinach
kale
vanilla Cinch
ice
water
Updated stats:
Weight: 150.2
Waist: 32
Hips: 39
Thighs: 24
Arms: 11
Chest: 33.5
Neck: 14
(Photo coming soon)
Although my measurements haven't changed too much, I've been able to stick to my daily routine with having a shake in the morning, meal bar for lunch and a sensible dinner. Yes, I snack throughout the day on "free foods" or sensible, low calorie snacks. I have had a few slip ups through the month with several Summertime bbq's, birthday celebrations and family trips. That's when "dieting" is the hardest for me. My family and I love to entertain, hang out with friends and family as well as have a good beer or glass of wine from time to time. I have been able to steer clear of over indulging when I do crave something sweet.
This is what my typical snack looked like. The Peanut Butter Chocolate Chip snack bars were my favorite!